La peinture sur cuir est le résultat de mes expériences au fil des ans. Je crée des peintures avec des couleurs de cuir, des couleurs de photo, un stylo et une encre sur du cuir, grâce à la préparation de la peinture sur cuir. Son processus de conservation est laborieux et prend du temps.
En conservant toutes les particularités d'une peinture sur toile, je préfère utiliser le médium (Peinture sur cuir et vélin) comme moyen d'expression. Je suis un artiste basé à Calcutta et j'expérimente des techniques récentes, comme tanner la peau brute puis en peignant dessus. J'utilise des couleurs étalées sur le cuir pour créer des images de la vie et de la nature, de la spiritualité et de la rationalité. Le médium de la peinture est non seulement long et laborieux, mais me permet également de travailler uniquement pendant les mois d'hiver sans humidité.
Mon sujet est "Ne pas détruire la nature et l'environnement". Ceci est ma nouvelle série de peintures. Ici, je fais la promotion des droits des animaux …… exprimant des préoccupations environnementales. Un pilleur de la nature avait détruit notre environnement jusqu'à aujourd'hui. Nous devons nous préoccuper et protéger notre environnement.
Je suis diplômé de première classe et titulaire d'une maîtrise du Government College of Art & Craft de l'Université de Calcutta, j'ai commencé à peindre à l'âge de 16 ans et je le fais encore maintenant. L'inspiration du dessin se reflète dans ses récompenses spéciales Twenty One & Twenty solo expositions ainsi que dans diverses expositions de groupe invitées dans différentes galeries partout en Inde et à l'étranger.
Suivez mon parcours d'expositions dans le tableau de droite de la page.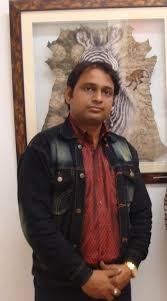 Vous souhaitez acquérir une œuvre d'Anirban Sheth ? Ou prendre contact avec notre artiste ?
Ecrivez-nous (à Natascha), nous vous mettrons en relation avec lui.
Le parcours d'Anirban Shet :
Received 21 awards including –National Award, Lalit KalaKshetra, Birla Academy of Art & Culture, Camlin Art Foundation,. Govt.Art College, E.Z.C.C., Avantika International, W.B.State Academy award(R.B.U-Lalit Kala Academy)etc. "ICAC gallery" [International Contemporary Art Centre, Mumbai], Colours Land Art Academy.
Recently got " AMERICAN ART Award 2018" ….. 6th Rank (Tie)…The 25 best galleries and museums in America decide in the best contemporary artists in the world.
My Collections is like-Jehanjir Art Gallery [Mumbai], Birla Academy (Kolkata),Lee-Alison Sibley[U.S. Consul general ],Moni Ratnam [Eminent Film Director], Art World(Chennai),Aurodhan Art Gallery(Pondichery), Tata Steel, Emami Limited, Marble Palace (Kolkata), British Deputy High Commission & Many Private, Corporate & Institutional collections, Like – India & Abroad [ like- USA, UK, CANADA, PARIS, GERMANY, RUSSIA, HONGKONG, SPAIN, SINGAPORE, THAILAND, BANGLADESH, JAKARTA etc].