Les recettes d'un début de succès pour Marie Isabelle
La Galerie en ligne France Suisse vous publie une lettre que Marie Isabelle lui envoie. Cette lettre concerne de nombreuses commandes et ventes que Marie Isabelle réalise en ce moment.
"Ma petite affaire commence à fleurir ! Mon site internet www.mariecouicoui.fr a fait peau neuve et j'ai reçu mes cartes de visite !
Après avoir réalisé une toile acrylique « bulbizarre » pour agrémenter mon site, des proches m'ont directement contactée pour passer commande.
Pour le mois de Février, j'ai ainsi à réaliser :
un tableau de famille à l'acrylique sous la forme de pokémons « Dracofeux et salamèches,
un tableau à l'acrylique représentant le pokémon « Drattak » qui partira pour la Belgique,
un portrait cartoon en A4 noir et blanc représentant un couple
enfin un cartoon en A4 noir et blanc pour une secrétaire médicale de l'Hôpital Européen Georges Pompidou.
Janvier étant un mois chargé en anniversaires dans la famille, j'ai réalisé une aquarelle représentant un cochon d'inde entouré de tournesols pour l'anniversaire de ma maman ainsi qu'une aquarelle de l'univers « Zelda, breath of the wild » pour mon frère, qui est aussi fan que moi de la saga Zelda.
Je travaille toujours sur la commande « Tableau d'élocution cacao » qui demande un travail davantage minutieux et conséquent, mais aussi que je retravaille beaucoup pour atteindre le niveau demandé par mon client-éditeur et susciter l'émotion dans chaque dessin.
Cela fait tout juste 1 mois que j'ai lancé cette petite activité et j'en suis très heureuse.
J'ai bien sûr des idées de projets pour agrémenter mon site: Il est prévu de réaliser un casque de Samus Aran (Metroid) sur toile noire avec de la peinture acrylique phosphorescente, mais aussi un herbier sur fond noir et un gorille pour revenir sur les peintures animalières. Ainsi on aura du nouveau dans le catalogue geek, le catalogue déco et le catalogue animalier.
Bien sûr, je donne la priorité à mes commandes, et j'espère en avoir davantage. Je compte sur mes clients et mes fans sur les réseaux sociaux pour relayer mon travail. J'espère pouvoir développer cette activité pour pouvoir vivre mon rêve d'artiste et continuer à préserver ma santé. Mes objectifs si cela marche : passer officiellement à mon compte et le rêve ultime : disposer d'un atelier !
Je travaille également à m'inscrire aux salons d'artistes et j'espère avoir la chance d'exposer mes peintures animalières si mon dossier est retenu !"
La galerie en ligne sera attentive (et présente) à cette actualité.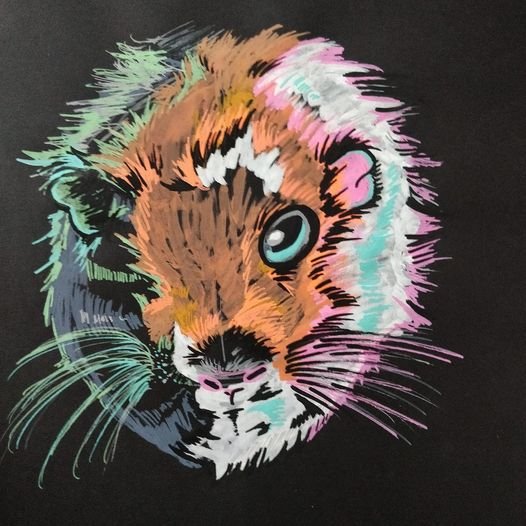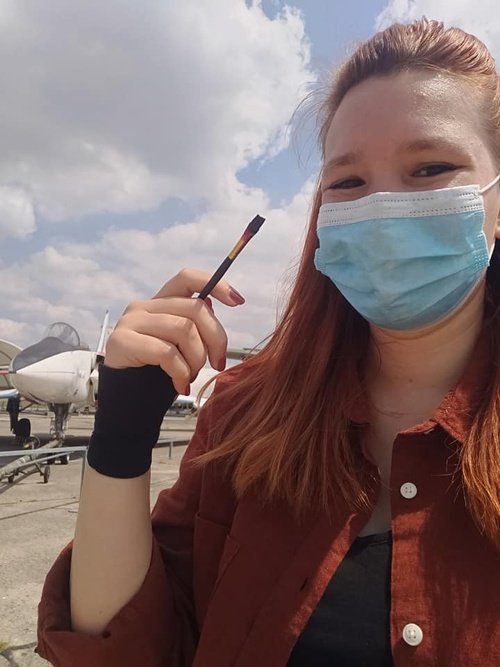 Outre ses peintures animalières organiques, Marie Isabelle s'adonne aux peintures d'oiseaux mécaniques et supersoniques, ici au Musée de l'Air & de l'Espace du Bourget (France).