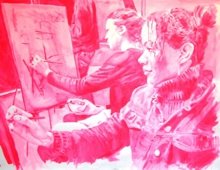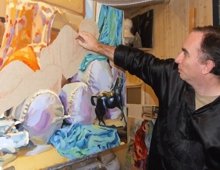 Online Kunstgalerie Paris Chur
Willkommen !
Sehr geehrte Besucherin, sehr geehrter Besucher. Wir heissen Sie herzlich willkommen.
Die Koronen ist eine Internetgalerie, die sich auf zeitgenössische Kunst spezialisiert hat. Eine Internetgalerie hat zahlreiche Vorteile, die Sie als Kunstliebhaber für sich nutzen können.
In unserer Internetgalerie können Sie ausdrucksstarke, moderne Kunst betrachten, unser Online-Shop sorgt dafür, dass zwischen Ihnen und dem Werk nur wenige Klicks stehen
Der Kaufpreis geht zu 100% an die Künstler. Leben Sie von Ihrer Kunst! Als Betreiber bekommen wir keine Provision; wir decken unsere Kosten durch die Mitgliedsbeiträge der Künstler.
Artemis Irenäus (Schweizer Team)
Bienvenue !
Bienvenue dans la galerie d'Art en ligne !
L'art en direct de nos ateliers. Nous sommes des artistes peintres, des plasticiens, nous vous proposons notre galerie franco-suisse pour acheter, vendre vos oeuvres, nous rejoindre & vivre de votre Art.
Le prix d'achat d'une œuvre va à 100% à l'artiste, nous ne prenons aucun frais de commission sur les ventes.
Nous couvrons nos frais par les cotisations des artistes.
Artemis Irenäus (Team suisse)
Welcome !
Dear visitor. We warmly welcome you.
The Koronen is an internet gallery that specializes in contemporary art. An internet gallery has numerous advantages that you as an art lover can take advantage of.
In our internet gallery you can view expressive, modern art, our online shop ensures that there are only a few clicks between you and the work.
100% of the purchase price goes to the artist. Live off your art! As the operator, we don't get any commission; we cover our costs through the membership fees of the artists.
Artemis Irenäus (Swiss team)
Unsere neuesten Nachrichten
Reise nach Hurghada September 2020, Verkäufe über Verkäufe!!
Wir sprechen wieder über die Reise nach Ägypten(Es geht um einen Artikel von Philippe. Deutsche Übersetzung: Artemis Irenäus) Wie wir Ihnen Ende Dezember im Blog mitteilten, wurden Natascha und Artemis Irenäus nach Ägypten eingeladen, um eine Serie von...
6. Jahrestag der Online-Kunstgalerie
Geschichte einer Geburt auf See(Es geht um einen Artikel von Philippe. Deutsche Übersetzung: Artemis Irenäus) Artemis Irenäus, Natascha, Konstanz, Elizabeth und ich freuen uns Ihnen mitzuteilen, daß sich die Online-Kunstgalerie seit ihrer Gründung, gleichmäßig...
Besuchen Sie mit Artemis Irenäus die Ausstellung "Ideen Schweiz"
Was hält eine Gemeinschaft zusammen?Wie immer, ladet Sie die Online-Kunstgalerie ein verschieden Museen zu besichtigen, verschieden Expositionen in Frankreich oder der Schweiz. Jede dieser Ausfluge erfüllt den Zweck und den Wunsch die Mehrheit von ihnen mitzunehmen...