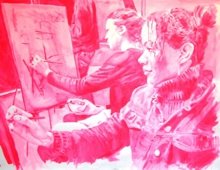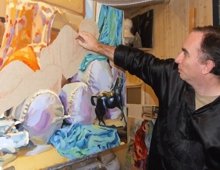 Web Gallery Contemporary art Les Koronin
The art directly from our workshops.
We are painters, visual artists, we offer our gallery for buying, selling your works, join us & live from your art. The purchase price of a work goes 100% to the artists, we do not take any commission charges on sales.
We cover our costs by artists contributions.
Differently from the traditional concept of online bloated gallery, we decided to offer our works Live of our artists' studios. Our online gallery provides you a page for artists, scalable regularly updated , traveled News of our artists, and opens the specific platform in order to discover as much as we submit our plastic work for your consideration.
Our painters and sculptors are located by Google Maps !
I hope you enjoy visiting our pages and site.
gallery programmed in the Jura
gallery programmed in the Jura As every year, the Swiss team joins the French team and the exhibiting artists who wish it, for a stay – eight days – drawing and painting, but also cultural discoveries and country or maritime walks. This tradition of a...
Bath in Saorge
  Bath in Saorge Any painting of Art is like creating beauty through extended forms in the space of the canvas. It is agreed and accepted that a thing is beautiful from the moment when its contemplation gives us a complacency whose vision is beatific.. It...
a part of fairy, paintings and sketches
  a part of fairy, paintings and sketches From next April 16th to 22nd, the French team of your online gallery joins the Swiss team at la Côte aux Fées (township of Neuchâtel, in the Val-De-Travers, bordering the township of Vaud). Paintings (watercolors)...