Maintaining all the special features of a painting on canvas, I prefer to use the medium (Painting on Leather & Vellum)as my means of expression. I am Calcutta based practicing Contemporary artist & experimenting with newer and newer techniques. Done by Tanning raw hide and then painting on it, smearing colour on Leather to create images from life and nature, spirituality and rationality. The Medium of painting is not only time-consuming and laborious, but also permit me to work only in the humidity-free winter months. I have been working in this medium for quite a longtime and have also exhibited my works in different galleries in India and abroad. My exhibits have been highly appreciated among the art critics and media and also from "GUINNESS WORLD RECORDS", London. U.K. [ Membership Number:24492, Claim ID: 32422]
My Subject is "Do not Destroy Nature & Environment". This is my new series of paintings. Here I promote animal rights ……voicing environmental concerns. Some Plunderer of Nature had been destroying our environment till today. We must need to concern and protect our environment.
I am a first class graduate & master degree holder from Government College of Art & Craft, Calcutta University, started painting when I was 16 years and have been doing so still now. Drawing inspiration is reflected in his Twenty One special awards & Twenty solo exhibitions along with various invited group shows in different galleries all over India & abroad.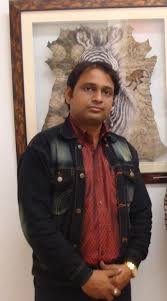 Do you want to buy an Anirban Sheth work? Or contact our artist?
Write us (to Natascha), we will put you in touch with him.
Follow my artistic news
Received 21 awards including –National Award, Lalit KalaKshetra, Birla Academy of Art & Culture, Camlin Art Foundation,. Govt.Art College, E.Z.C.C., Avantika International, W.B.State Academy award(R.B.U-Lalit Kala Academy)etc. "ICAC gallery" [International Contemporary Art Centre, Mumbai], Colours Land Art Academy.
Recently got " AMERICAN ART Award 2018" ….. 6th Rank (Tie)…The 25 best galleries and museums in America decide in the best contemporary artists in the world.
My Collections is like-Jehanjir Art Gallery [Mumbai], Birla Academy (Kolkata),Lee-Alison Sibley[U.S. Consul general ],Moni Ratnam [Eminent Film Director], Art World(Chennai),Aurodhan Art Gallery(Pondichery), Tata Steel, Emami Limited, Marble Palace (Kolkata), British Deputy High Commission & Many Private, Corporate & Institutional collections, Like – India & Abroad [ like- USA, UK, CANADA, PARIS, GERMANY, RUSSIA, HONGKONG, SPAIN, SINGAPORE, THAILAND, BANGLADESH, JAKARTA etc].