Alain Cabot's collective exhibition and the sequel to "Trop!"
The genius of the Bastille
03.01.23 to 12.01.23, Paris
As usual, the team of the online gallery invites you to come and visit with them the exhibitions of various French and Swiss museums. She puts her knowledge of professional artists at your disposal to talk about Pictorial art, sculpture, conceptual art… The online gallery does not charge any participation fees for these visits. Admission to the museum (when access is charged for), transport (road or rail) and any stay (hotels, bed and breakfasts, restaurants, etc.) are the responsibility of each person with the organizations concerned.
_____________________________
First allow the online gallery to offer you good wishes for the year 2023. And this year begins with the new exhibition of our artist Alain Cabot.
Alain Cabot invites us to come and visit the collective exhibition in which he participates and organized by the association "Le Génie de la Bastille".
At this exhibition, thirty painters, engravers, designers participate in this collective exhibition at the gallery of the association. Each artist presents a set of five to six small format works. Remember, for those who have not yet read Alain Cabot's page in the online gallery, that our artist is reflecting on the act of painting. This act of painting (and not of "making paint") always passes through a personal catastrophe: "The act of creation is an imperious and unconscious necessity, – he declares – a deep need to build a more humane, fairer and more sensitive".
Opening on January 5, 2023 from 6 p.m.!
Exhibition from January 3 to 12, 2023
Tuesday to Sunday from 2 p.m. to 8 p.m.
The Engineering of the Bastille 126, rue de Charonne – 75011 Paris
09 51 30 99 63 – 06 26 57 28 36
Alain Cabot proposed this video (accessible on Facebook) of the exhibition TROP! in which he participated. The images are by J.Ballon.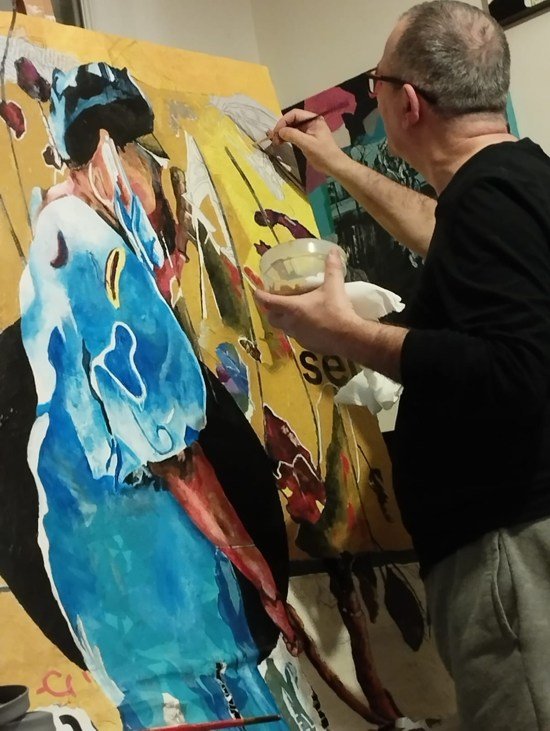 Would you like to acquire a work by Alian Cabot? Or contact our artist?
Write to us (at Artémis Irenäus), we will put you in touch with him.
You are an artist in one of the fine arts (art painting, sculpture, engraving, drawing, art photography, etc.) you wish to benefit from our Swiss and French showcase open 24 hours a day to the world?
Write to Konstanz!