Something new and above all marketing graphics.
The online gallery received this morning a long article that
Marie Isabelle – Mariecouicoui!
– kindly asks him to publish. Here is the first part.
Marie Isabelle, animal painter has resumed her pet sitting activity since July 2021 as an amateur with a distinction that is surprising to say the least: dedicating her home pet-sitting services only to guinea pigs, her greatest passion!
Before the guinea pigs, the time of the dogs.
"Since my studies as a Veterinary Assistant in 2014, I have kept dogs and cats in the owners' homes. I had to put this little job on hold for health reasons and because I didn't feel comfortable staying alone in big houses for several nights. Obviously, this experience was an incredible opportunity, because thanks to my network of clients, I was able to meet the owner of my current apartment and get a small rental apartment at a time when the real estate market was very tough. It was my spouse who gave me the idea of taking care of guinea pigs exclusively, for my greatest happiness! »
And the artistry in all of this?
Marie thought about the graphic design and marketing aspect of her project. The colors are inspired by nature and the products of the earth (terra-cotta, sienna, browns, ochres, oxidized reds). She has already produced a model of a logo available in several event themes (Christmas, New Year, Valentine's Day… The Easter one is being developed)
"I don't pretend to call myself a graphic designer, but with the little I learned, I wanted to create a simple logo myself, which I can easily theme and without being outrageously time-consuming. I also wanted to draw inspiration from the colors of my little Lilly's coat, the colors of nature and above all the warm colors reminiscent of summer. These colors will be found in the final decoration of my "coui-couis" room. I push the colorimetry even in the development project of the future premises of my company and in the accessorization of the future parks of my boarders like my future personal guinea pigs! And then my favorite colors are terra cotta red and orange! »
We tend to compete with the artists of the marketers. However, one does not prevent the other according to Marie. To make a good brochure, a beautiful poster, a site or a business card that will make the customer want to make contact, there is a whole look at the layout of the photos/images, a typography and above all a controlled choice of colors . »
To be continued…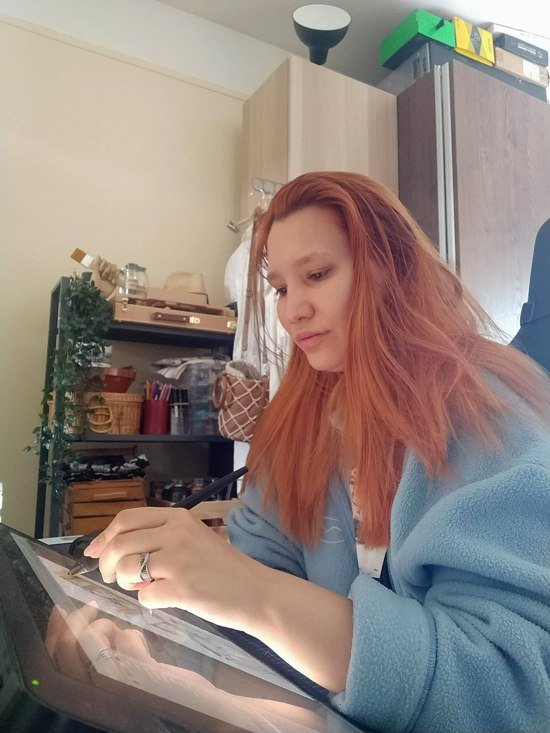 Would you like to acquire a work by Marie Isabelle? Or contact our artist?
Write to us
(at Artémis Irenäus)
, we will put you in touch with her.
You are an artist in one of the fine arts (art painting, sculpture, engraving, drawing, art photography, etc.) you wish to benefit from our Swiss and French showcase open 24 hours a day to the world?
Write to Konstanz!