Two new videos from our artists.
Our artists Fabian Caro and Alain Cabot send us their new videos.
The online gallery is pleased to publish them to you.
Fabian Caro
Fabian, is a South American (Chilean) artist, exhibited in the online gallery for several years. A college, a faithful friend whose artistic universe Artemis Irenäus adores.
"In general, I have defined my work in the world of the plastic arts as a STATE OF MIND, and I am more and more sure that it is indeed so, I run to feel and discover minute by minute what is born as a creative torrent that is reflected in volumes, tones, colors, geometry, lines, materials, lights, depths and perspectives. This, together with the discipline, the absolute rigor, the techniques, the trade, the many successes and failures that guide the path that leads me to happily execute this artistic work that I give to all those who wish to travel through magical dimensions which are outside of reality. your senses with this creativity transformed into works."
Alain Cabot
A prolific French artist, whose works are highly appreciated by Natascha, Alain supplies the Art Gallery with numerous publications: photos, videos that he produces himself.
"The mission of artist Alain Cabot is to create art that reflects the unique being of the individual while connecting people to each other and to their environment. Through the use of different mediums – such as painting, sculpture, installations, digital Alain Cabot aims to create meaningful works of art that can be enjoyed by all. The painter is passionate about producing works of art that rise above chaos and become something more – a beacon of connection and inspiration for people around the world. Whether it's exploring a new idea or discovering a shared experience, Alain Cabot strives to bring beauty and creativity to the world."
The Art Gallery does not forget Dzyan – Eric Jarque – painter and poet whose dialogues with Artémis Irenäus are of fabulous richness.
We look forward to telling you about it in the next article.
Would you like to acquire a work by Fabian Caro? Or Alain Cabot? Or both? Or contact our artists? It's very easy :
Write to us (at Artemis Irenäus), we will put you in touch with them.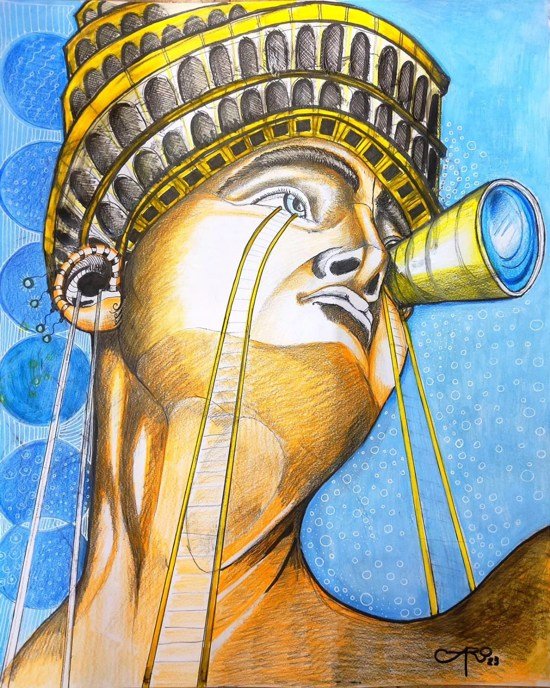 «The Look» – Fabian Caro : cms mixed on paper, 50x60cm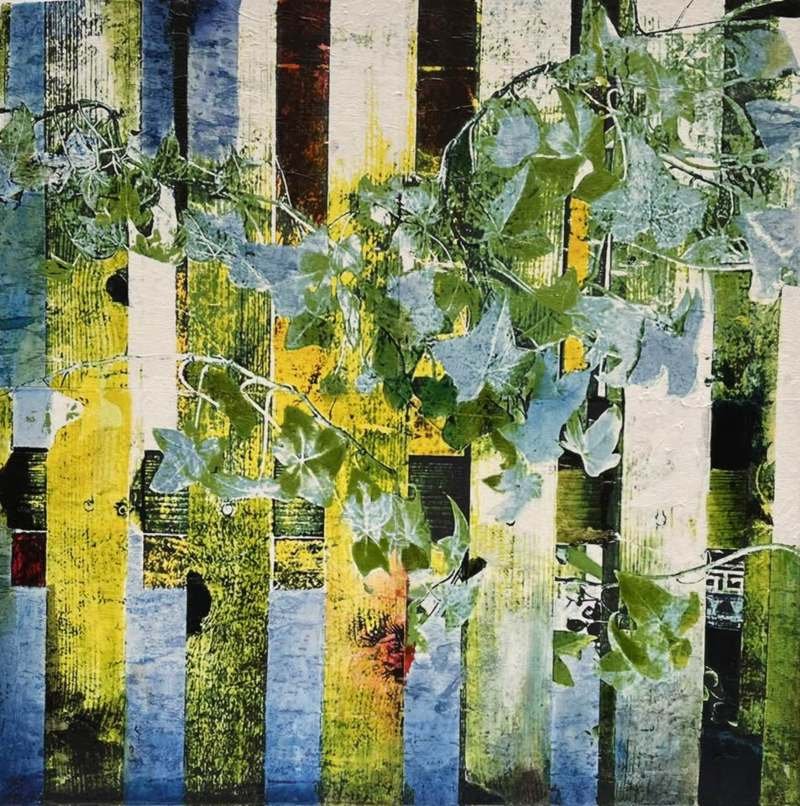 Plant Abstraction series – Alain Cabot: mixed technique on acrylic canvas and inks, 50x50cm
Video by Fabian Caro (on your left)
Video by Alain Cabot (on your right)
You are an artist in one of the fine arts (art painting, sculpture, engraving, drawing, art photography, etc.) you wish to benefit from our Swiss and French showcase open 24 hours a day to the world?
Write to Konstanz!