In production, full blast! 
Your online art gallery loves crafts. She was already welcoming her friend's forge Eric Jarque Dzyan, she decided to welcome Guadalupe Daneri with pleasure, proposed by Alain Cabot.
In the Art Gallery, Guadalupe Daneri represents textile arts, the art of thread.
Like ceramics, textiles date back to the dawn of time. Clay and textile fibers abound on the surface of our planet and represent humanity. The qualities of textile govern social bonds, carry symbolic values and myths of ancient civilizations. These qualities make this Art an autonomous aesthetic expression like painting, engraving, sculpture. Life unfolds vertically, in the flexibility and movement of the folds.
The work of Guadalupe Daneri therefore has its place in a contemporary art gallery.
Guadalupe Daneri talks to us about her Art.
"Clarity, hope, Peace, everything and nothing more that I ask for and seek in my heart to give me freedom. I just want to be here, in my heart. I know the way to quench my thirst, to return to my heart, that's why I give myself space in time and with my work and today, by making you participate in this, my path, I show you another work that I know how to do, a Ruana woven with pure llama wool."
An example of Guadalupe Daneri's work, followed by two videos by the artist.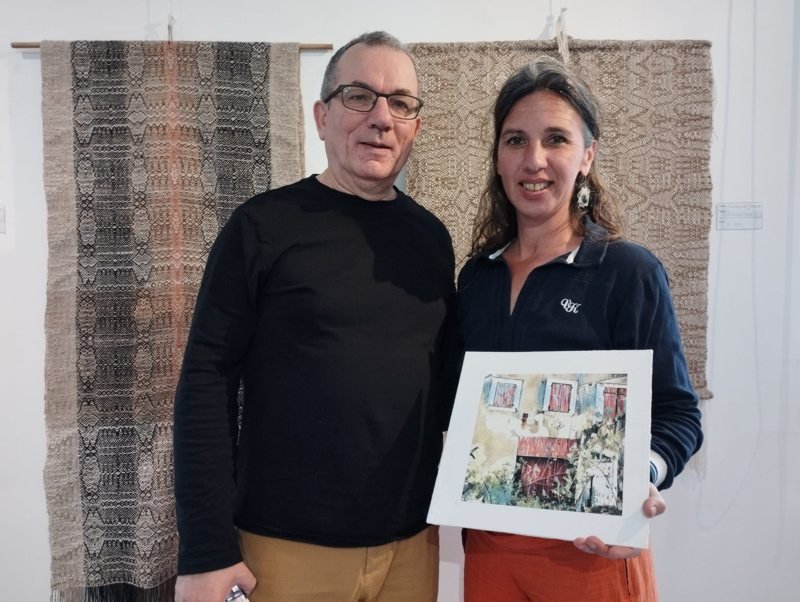 Alain Cabot and Guadalupe Daneri. 
You are an artist in one of the fine arts (art painting, sculpture, engraving, drawing, art photography, etc.) would you like to benefit from our Swiss and French showcase open 24 hours a day to the world?
Write to Konstanz!