I am a professional artist, having an artist's studio in the charming village of René, at the foot of the 16th century Halles (in the north of the Sarthe). I only started a few years ago thanks to the encouragement of other renowned artists, which gave me confidence because it is sometimes difficult to consider yourself as an Artist.
Today, my artistic approach is mostly letting myself be carried away by my present emotions and feelings. The subjects are varied and can represent imagined stories or current events that mark me, lived emotions, ancestral legends or pure imagination. I would say that I often create in a very spontaneous and intuitive way, I tell myself stories over lines and curves.
I like to use organic, vegetal, animal and geometric shapes, which allow me to bring abstractions to life, and I like the idea that using abstract shapes most of the time allows everyone has the freedom to appropriate the image according to their own way of perceiving. Then at other times, images ripen and take shape in my head and then take shape on the canvas.
I am passionate about horses, their nobility, their character … so they are the favorite subject of my paintings and drawings.
Due to my training as a graphic designer and influenced by Chinese and Japanese calligraphy, I have been working for a few years on the interpretation of movement in my paintings, drawings and sculptures, as well as on body language and line: by a few lines, suggest the form and the character of the horse.
Present in France, I am also in Canada (Quebec). Indeed, after exhibiting around thirty paintings at the Château Logue, in Maniwaki, Quebec, in 2010, my work is permanently presented in the Galerie d'Aumont, a town near Maniwaki.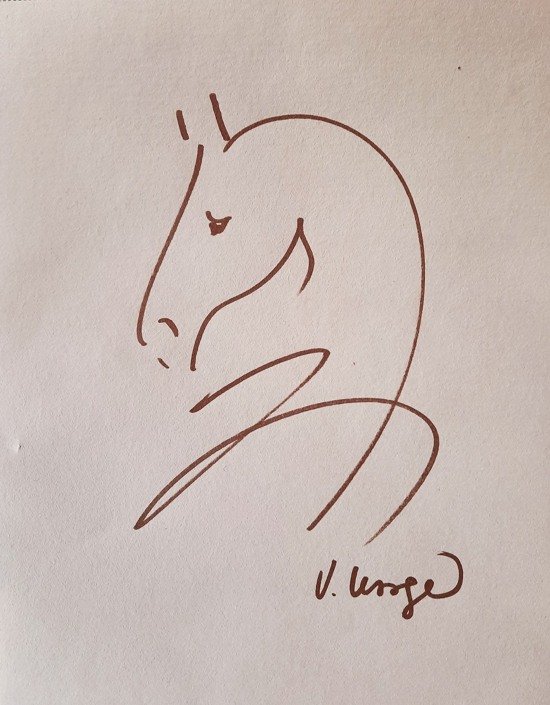 Do you want to acquire a work by Véronique Lesage? Or contact our artist?
Write to us, we will put you in touch with her.