With his multi-format work, Fabián Caro Román surprises us.
In the viewer, amazement instantly mutates into a genuine desire to delve deeper and deeper into the universe proposed by the artist. There it is, lurking, a gallery of fantastic beings.
They challenge us from their architectural landscapes located in the improbable temporal coordinate of the retrofuture. Robotic gods, metallic monsters and fabulous characters emerge from the surrealist exercise that connects the unconscious and matter and that invariably shapes the infinite faces of archetypes.
The fertility, eroticism, magic and impeccability of the warrior assume original forms. However, Caro's proposal goes further. His metaphysical pantheon acquires prophetic characteristics because each of his members is also a cyborg, that fusion of the organic and the machine that looms as the inevitable destiny of our species.
This Portfolio, organized according to the different techniques mastered by the creator, can be interpreted as an extensive business card full of colors, shapes and visual information, but it is also a choral story that, little by little, submerges the reader / observer in a labyrinthine space. In each bedroom we come face to face with structural images of our deepest mental substrates. When we leave, we are no longer the same as the first page because each scene posed a question that, sometimes, we are able to answer instantly and other times, it will continue to resonate for a long time.
Fabián Caro Román, not only deserves that we continue to pay close attention to his constant and consistent artistic production, he is a creator who must receive the gratitude of all those who look at his work because he gives the possibility, to those privileged ones, to deeply question the psychic thread of our species, its origin and its uncertain future. To all YouTube artenuts: "Welcome to the journey!" Juan Pablo Rojas Schweitzer, Journalist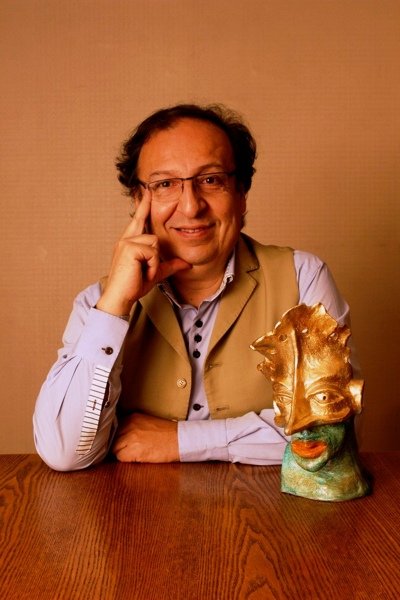 Also visit the sculpture gallery
Fabian Caro's cultural journey
ACADEMIC PERFORMANCE IN HIGHER EDUCATION AND FREE WORKSHOPS
– THEORY OF OBSERVATION AND ARTISTIC EXPRESSION
– MEANS OF ARTISTIC EXPRESSION: AESTHETIC IDEAS AND RESEARCH TECHNIQUES.
– ANALYTICAL AND ARTISTIC DRAWING / HUMAN FIGURE, SCALES AND ERGONOMICS
– DRAWING OF SPACE / PERSPECTIVES AND DEPTHS, FIGURE AND HISTORY, LIGHTS AND SHADOWS
– SCULPTURE I: AESTHETIC MORPHOLOGY OF MATERIALS
– SCULPTURE II: THE HUMAN FIGURE
– SCULPTURE III: ABSTACTION IN SPACE
– THEORY OF COLOR AND COMPOSITION IN ART, ARCHITECTURE AND DESIGN.
PRESENTATIONS AT SEMINARS AND CONGRESSES
• III International Congress of Older Persons, Citizenship and Empowerment CELADE / I.P.S. Santiago, Chile.
• XIVth National Congress of Geriatrics and Gerontology. P.U.C. / I.P.S / SENAMA Santiago, Chile.
• International Congress "Archive of Tradition and Laboratory of the Future: University Education for the Elderly." Turin, Italy.
• Education and Gerontology Seminar "The Reinvention of Big People". SENAMA and Caja Los Andes
• Congress of universities for the great people. "Tools for entrepreneurship" Burgos, Spain.
• Congress of universities for the great people "A Major Earthquake". Valencia Spain.
• Projects of the international architecture, identity and heritage biennial ". Asunción, Paraguay.
• MILAN FURNITURE FAIR "The new way to take coffee" Illy Café, Milano Italy
• CULTURAL MANAGEMENT SEMINAR "The role of universities in the production of culture" CEPAL Santiago, Chile