Marie Isabelle e a 33ª edição dos Ateliers d'Artistes de Belleville.
A Galeria Online abre seu Blog para Marie Isabelle.
"Primeiro de tudo, um pequeno aviso para lembrá-lo de que este artigo não pretende destacar certos artistas mais do que outros. Os artistas apresentados neste artigo são aqueles que estiveram disponíveis e dedicaram um tempo para explicar sua abordagem artística para nós .
De sexta-feira 20 de maio de 2022 a segunda-feira 23 de maio de 2022 foi realizada a 33ª edição do Open Doors of the Ateliers d'Artistes de Belleville e tive a oportunidade de visitar o Atelier rue Mélingue no 19º arrondissement de Paris no sábado 21 de maio 2022.
Agradecemos calorosamente aos artistas que concordaram em nos permitir esta publicação. Este é o tema de dois artigos, La galerie d'Art en ligne publicará seu seguimento e final de 7 de junho.
Você deve saber que antes de ser um ateliê de artista, as instalações eram ocupadas por uma Escola Preparatória para o Ensino Superior em Artes Plásticas, escola na qual fiz minha pós-graduação de 2012 a 2014. As instalações foram assumidas pela artista visual Elisabeth LEROLLE ao abrigo da Associação "Ateliers d'Artistes de Belleville", permitindo assim preservar a alma dos jovens artistas que ali estudaram, mas também proporcionar um espaço de trabalho para os novos artistas que aderem à Associação.
Foi, portanto, com nostalgia e acompanhado por uma ex-aluna da minha promoção, Mylène Prunier, que me dirigi ao meu antigo local de estudo. Tive o prazer de conhecer Elisabeth LEROLLE.
Elisabeth apresenta suas esculturas feitas principalmente de materiais reciclados. A maioria de suas esculturas tem uma dupla leitura, um lado de um lado e depois o outro, eles se olham a 360°C, interagem entre si ou até tomam chá juntos! Minha atenção é capturada por um celular feito de ossos de galinha, muito gráfico, arejado (se é que se pode dizer) e terrivelmente design! "
No próximo artigo, apresentaremos uma exaustiva galeria de fotos das obras expostas na oficina durante esta 33ª edição das Portas Abertas dos Ateliers d'Artistes de Belleville.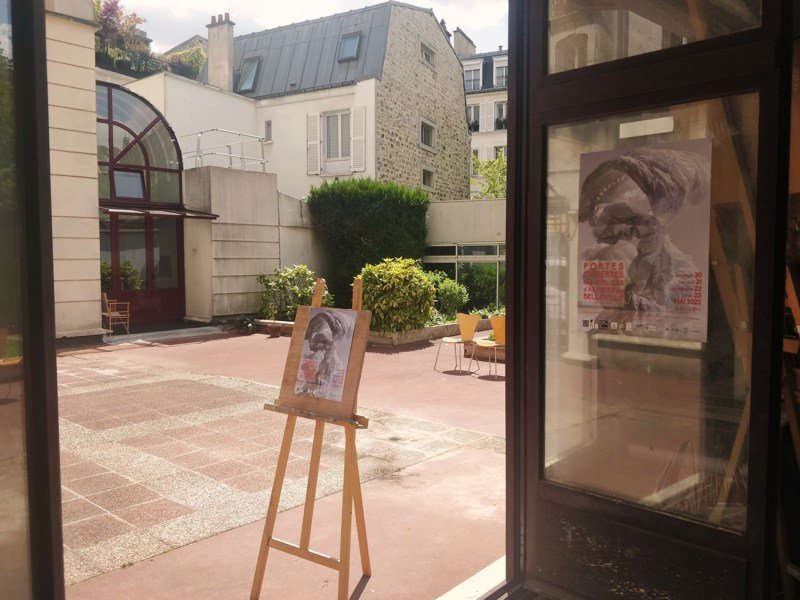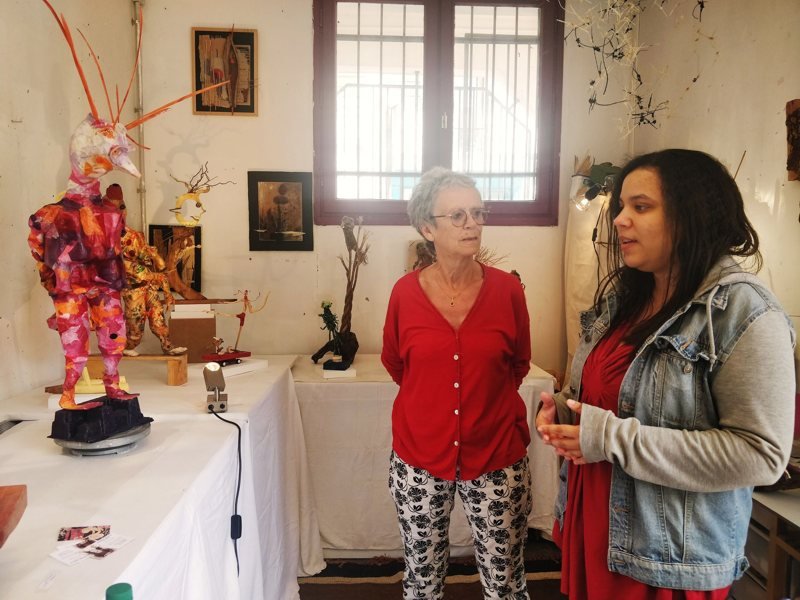 Foto de cima: o pátio do estúdio da rue Mélingue. Acima: Elisabeth Lerolle e Mylène Prunier. Fotos de Maria Isabel.
Você é um artista em uma das artes plásticas (pintura artística, escultura, gravura, desenho, fotografia artística, etc.) e deseja se beneficiar de nossa vitrine suíça e francesa aberta 24 horas por dia para o mundo? Escreva para nós !