Колективна виставка Алена Кебота та продовження фільму "Троп!"
 Геній Бастилії
03.01.23 по 12.01.23, Париж
Як завжди, команда онлайн-галереї запрошує відвідати разом з собою виставки різних музеїв Франції та Швейцарії. Вона надає свої знання про професійних художників у ваше розпорядження, щоб поговорити про живопис, скульптуру, концептуальне мистецтво… Онлайн-галерея не стягує жодної плати за участь у цих візитах. Вхід до музею (якщо доступ платний), транспорт (автомобільний чи залізничний) і будь-яке перебування (готелі, пансіонати, ресторани тощо) є відповідальністю кожної особи у відповідних організаціях.
_____________________________
Спочатку дозвольте онлайн-галереї запропонувати вам добрі побажання на 2023 рік. А цей рік починається з нової виставки нашого художника Алена Кабо.
Ален Кабот запрошує нас відвідати колективну виставку, в якій він бере участь і організована асоціацією «Le Génie de la Bastille».
На цій виставці тридцять художників, граверів, дизайнерів беруть участь у цій колективній виставці в галереї асоціації. Кожен художник представляє набір із п'яти-шести робіт малого формату. Пам'ятайте, для тих, хто ще не читав сторінку Алена Кабо в онлайн-галереї, наш художник розмірковує над актом малювання. Цей акт малювання (а не «виготовлення фарби») завжди проходить через особисту катастрофу: «Акт творення є владною і неусвідомленою необхідністю, — проголошує він, — глибока потреба побудови людянішого, справедливішого й чутливішого» .
Відкриття 5 січня 2023 року з 18:00!
Виставка з 3 по 12 січня 2023 року
З вівторка по неділю з 14:00 до 20:00.
The Engineering of the Bastille 126, rue de Charonne – 75011 Paris
09 51 30 99 63 – 06 26 57 28 36
Ален Кабот запропонував це відео (доступне у Facebook) виставки TROP! в якому брав участь. Автор зображень J.Ballon.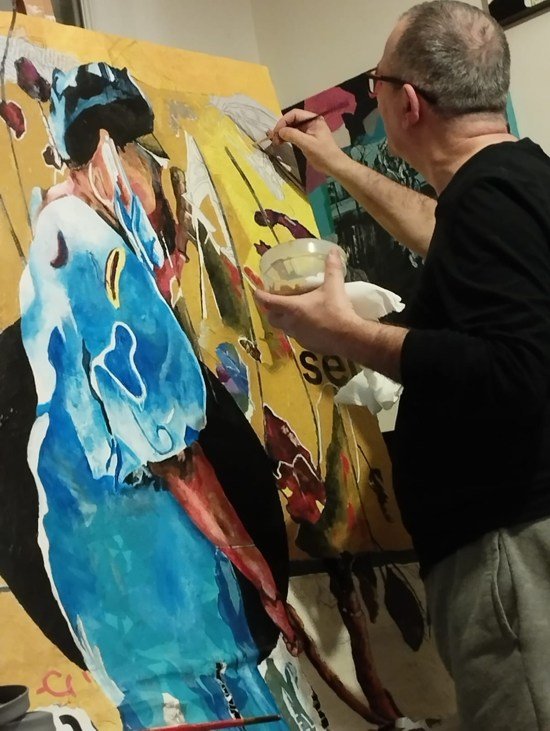 Чи хотіли б ви придбати твір Аліана Кебота? Або зв'язатися з нашим художником?
Напишіть нам (до Artémis Irenäus), ми зв'яжемо вас з ним.
Ви митець в одному з образотворчих мистецтв (художній живопис, скульптура, гравюра, малюнок, художня фотографія тощо) і хочете отримати вигоду від нашої швейцарської та французької вітрини, відкритої 24 години на добу для всього світу?
Пишіть Констанці!