Our artist Alain Cabot and the Mona Lisa Missione III
Il Leone Gallery
October 11 to 15, 2022
Our French artist Alain Cabot participates in the Roman exhibition Mona Lisa Missione III
"Connecting the Americas, Europe and Africa, the Mona Lisa III mission crosses the oceans accumulating virtuous merits for the benefit of humanity.
Mystical and beautiful, the spirit of Leonardo travels from Rome to Paris. This without forgetting to proclaim the Declaration of the Rights of the Soul in the Il Leone Roman Gallery and without ceasing to participate in the Biennial of the Prelude in Venice.
Gloriously immersed in the battle of Arts, Sciences and Letters against non-being, alongside notable international ambassadors of the Museum of Contemporary Art Don Armando Sigifredo Reschini in Sanford, Santa Fe, Argentine Republic, he also exhibits in Paris, from October 21 to 23 at the Carrousel du Louvre and from October 20 to 30 at the AAB Gallery.
Venue of the exhibition:
Il Leone Gallery, Via Aleardo Aleardi, 12. 00185 Roma (Italy)
+39 371 588 8155
https://www.leone-arte.com/
10 a.m. to 1 p.m. and 4 p.m. to 7 p.m.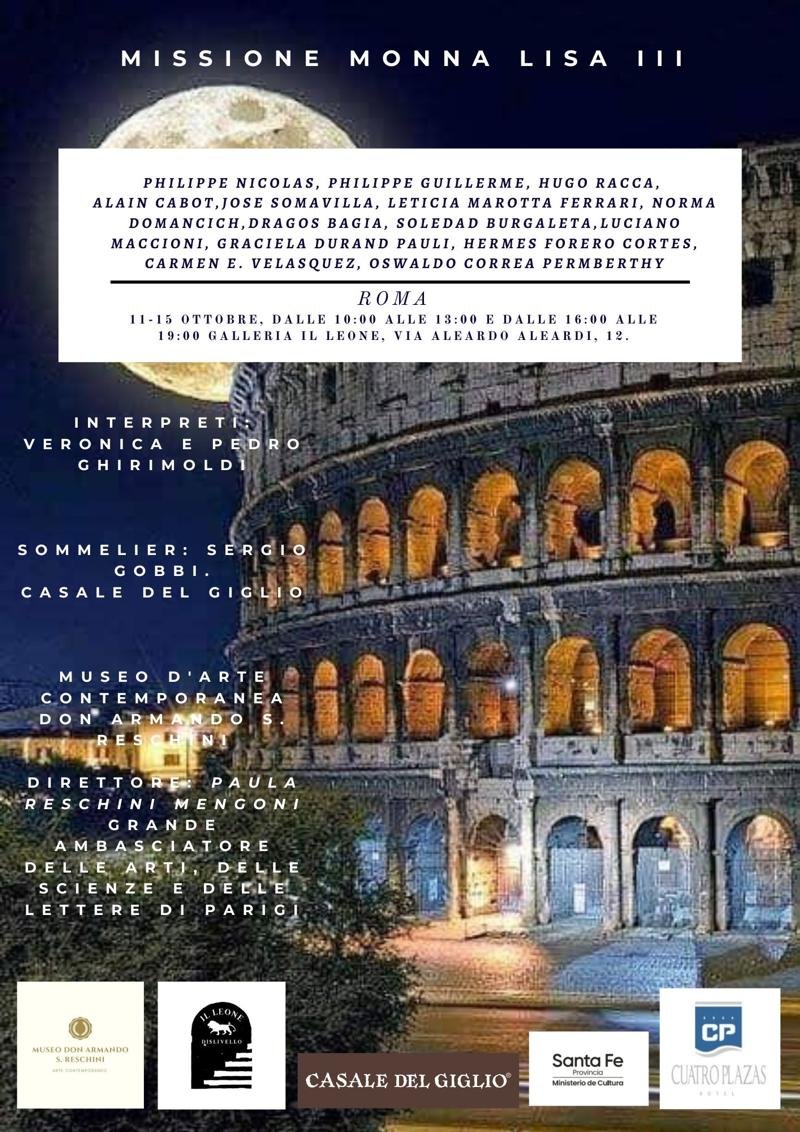 Would you like to acquire a work by Alain Cabot? Or contact our artist?
Write to us
(at Artémis Irenäus)
, we will put you in touch with him.
Two videos taken by Alain Cabot during the opening. Pedro and Verónica Ghirimoldi, a duo of Argentinian musicians, perform pieces by Pablo Milanés, Mercedes Sosa and Atahualpa Yupanqui.
You are an artist in one of the fine arts (art painting, sculpture, engraving, drawing, art photography, etc.) you wish to benefit from our Swiss and French showcase open 24 hours a day to the world?
Write to Konstanz!